Rytons Mini LookRyt AirCore - White
Description
Rytons Mini LookRyt AirCore is a retro-fitted combustion air vent for boilers, stoves and fires.
Just 3" diameter for low kilowatt stoves requiring minimal ventilation.
May also be suitable for stoves up to 10kW in properties built prior to 2008.
Unique draught reducing panel disperses air evenly for improved comfort.
Paint or wallpaper the mini panel to match room decor for a discreet appearance.
External water baffle prevents the transfer of water across the cavity.
External grille U.V. stabilised to slow down the effects of sunlight.HETAS approved for use with solid fuel appliances.
LookRyt Panel: Patent No. GB 2490138.
Equivalent Area: 3 168mm? (31.68cm?) per unit.
click here
If you have any questions about your purchase please don't hesitate to send us a message through our contact page.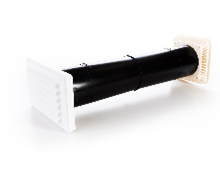 Rytons Mini LookRyt AirCore - White
Reviews

Be the first to review this product.

Leave a review