SnapLok Power Grip Handle 18" (450mm)
Description
The SnapLok Power Grip Handle 8" (450mm) can be used for a multitude of applications.
It is made entirely of stainless steel, with a foam grip handle, male and female SnapLok fittings at either end and attached to a stainless steel 12mm shaft rod that runs through the core on two stainless bearing sets.
This is an ideal safety handle if you have spin through your hand in the same spot.
For example, removing dense birds nest or on top of the chimney pot to remove hard creosote deposits.
Suitable for 12mm - 22mm SnapLok Rod.
If the product is showing as OUT OF STOCK please send an email with the details of the item you require to sales@stoveindustrysupplies.com and a member of the sales team will contact you directly to discuss your requirements.
To see the full SnapLok Rotary Power Sweeping Range click here.
To see our full range of Chimney Sweep Equipment click here.
If you have any questions about your purchase please don't hesitate to send us a message through our contact page.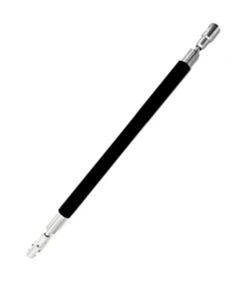 SnapLok Power Grip Handle 18" (450mm)
Reviews

Be the first to review this product.

Leave a review