Plain Data Plate Pack of 30
Description
Our Plain Data Plates are unbranded and contain all the information you are required to leave when installing a stove
Notice plates are required at all installations and should be robust, indelibly marked, and securely fixed in an unobtrusive but obvious position within the building. Such as
Next to the electricity consumer unit.
Next to the chimney or hearth described.
Next to the water supply stopcock.
To see our full range of Stove Installation Products click here
To see our full range of Fireside Products, including high temperature glue and fire cement click here
If you have any questions about your purchase please don't hesitate to send us a message through our contact page.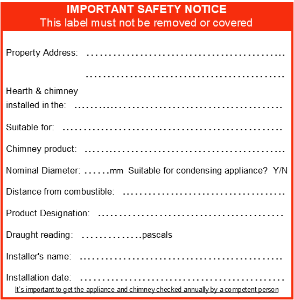 Plain Data Plate Pack of 30
Reviews

Be the first to review this product.

Leave a review