Description
This kit is designed for power sweeping 8" - 20" open flues
It is a highly efficient system as it takes less than 30 seconds to connect all the double button lock rods together
The kit will go up to 12 metres in height, but additional rods can be purchased to extend this further
All the rods have stainless steel buttons which are quadruple crimped to the fittings/ferrules on either end of the rod. The steel is heat-treated for extra strength/durability and double plated for extra corrosion resistance
The kit can also be used for manual chimney sweeping, by connecting the SnapLok rods to a suitable SnapLok adaptor and onto a brush if necessary
Also included in the kit is an
18"/450mm SnapLok Power Whip Head
24"/600mm Power Whip Head.
The length of line for the Whip Heads can easily be adjusted by removing the screw in the base of the head allowing you to replace it with a different size
Also included are 2 x Large 14" & 17" Soft Rotary Mole Brushes for more delicate flues that need sweeping
The 15mm rods are red and the 18mm rods are black in colour. We purposely do not make a white lead rod as we feel that this creates a weakness in the kit
Using the same rod as a lead rod every time makes that one lead rod very weak after a period of time, and in our experience using other systems this can lead to a breakage of the lead rod
Rotating all the rods in the kit is the preferred method of Power Sweeping
This kit includes
4 x 15mm - 1m Solid Nylon Rods - Steel Ferrules
8 x 18mm - 1m Solid Nylon Rods - Steel Ferrules
1 x 18"/450mm Power Whip Head
1 x 24"/600mm Power Whip Head
1 x 14" RPS Mole Brush - Soft
1 x 17" RPS Mole Brush - Soft
1 x SnapLok Large Drill Adaptor
1 x SnapLok Hex Key (For changing whip line)
1 x SnapLok 4ft Zipped Rod Bag
To see the full SnapLok Rotary Power Sweeping Range click here.
To see our full range of Chimney Sweep Equipment click here
If you have any questions about your purchase please don't hesitate to send us a message through our contact page.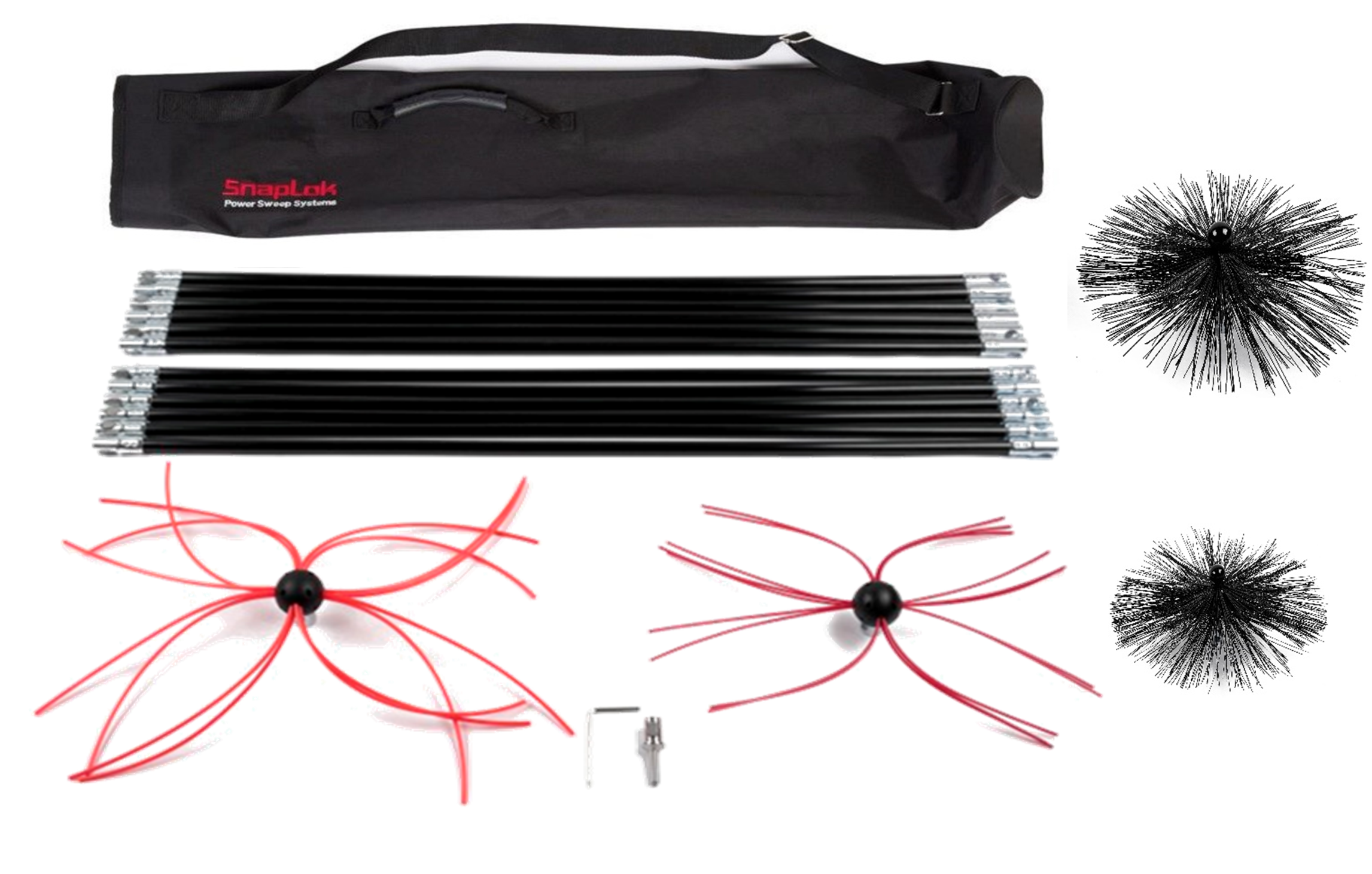 SnapLok Open Fire Kit
Reviews

Be the first to review this product.

Leave a review