SnapLok Complete Starter Kit
Description
This kit has been designed for the professional Chimney Sweep who is starting to get into Rotary Power Sweeping (RPS)
With this kit you can sweep 5", 6", 8" liners up to 10 metres and open flues up to 12 metres
You use different rod sizes to sweep a flue, for example, an open flue at 11 metres, use 4 of the 15mm rods and 8 of the 18mm rods
The kit comes with a selection of heads, for removing tar and birds nests, plus a selection of useful RPS kit
The Power Whip Heads supplied are
9"/230mm SnapLok Bullet for liners
18" Power Whip Head with 2.7mm whip line
24"/600mm SnapLok Death Star Whip head that includes the Scrub Shaft
Plus spare Power Whip Line to fit in your own Power Whip Heads.
The length of the whip line can be adjusted very easily by removing the screw in the base of the head, this then allows the whip line to be replaced with a different size
The kit also comes with a selection of RPS Mole Brushes for sweeping liners and open fires, plus a Whitworth adaptor for using with manual brushes
This kit includes
11 x 12mm - 90cm Solid Nylon Liner Rods - Steel Ferrules
4 x 15mm - 1m Solid Nylon Rods - Steel Ferrules
8 x 18mm - 1m Solid Nylon Rods - Steel Ferrules
1 x 9"/230mm Bullet Whip Head
1 x 5" RPS Mini Mole Brush
1 x 6" RPS Mini Mole Brush
1 x 18"/450mm Power Whip Head
1 x 24"/600mm Death Star with Scrub Shaft
1 x 14" RPS Mole Brush - Soft
1 x 17" RPS Mole Brush - Soft
1 x SnapLok 25m x 4mm Whip Line Reel
1 x SnapLok Adjustable Chain Tar Whip 12" - 18"
1 x SnapLok Large Drill Adaptor
1 x SnapLok Hex Key (For changing whip line)
1 x SnapLok 3ft Rod bag
1 x SnapLok 4ft Zipped Rod Bag
1 x SnapLok Steel Cable Nest Whip 450mm
1 x SnapLok Nest/Brush Retrieval Tool
1 x 1/2" Whitworth Female - SnapLok Female Manual Brush Adaptor
1 x RPS Rod Guide
1 x RPS Telescopic Inspection Mirror
To see the full SnapLok Rotary Power Sweeping Range click here.
To see our full range of Chimney Sweep Equipment click here
If you have any questions about your purchase please don't hesitate to send us a message through our contact page.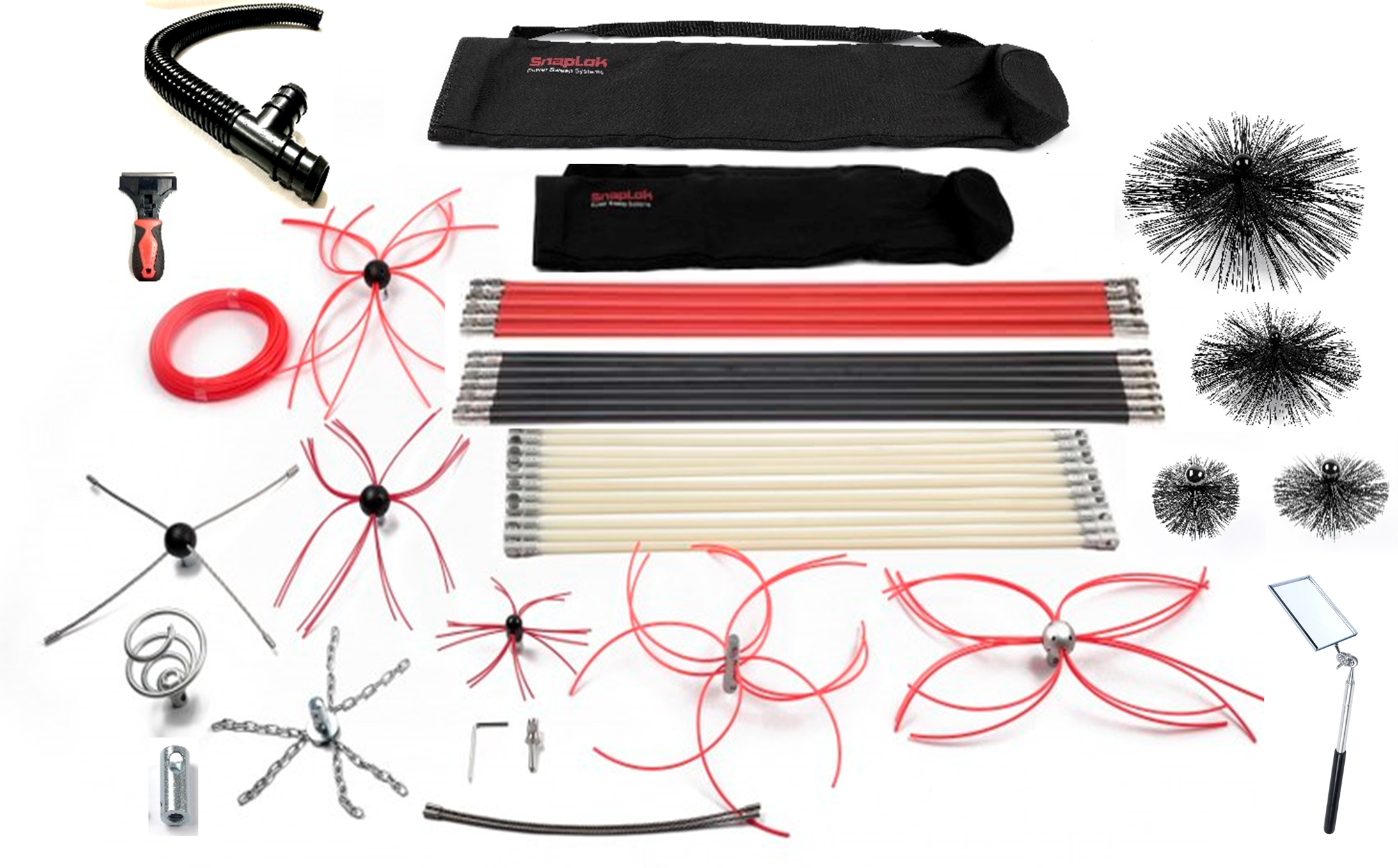 SnapLok Complete Starter Kit
Reviews

Be the first to review this product.

Leave a review