How to use our Custom Glass Calculator

If you cannot find the right glass for your needs in our glass catalogue we can cut a piece to your specifications.
See below for our guide on how to make sure you get the right glass for your needs.
Before You Start
Before you start you will want to make sure you have all the measurements necessary to fill in the calculator.
The best way to get these measurements is to remove the glass from the stove as this will give you the most accurate measurements.
Measuring the opening or door is not advised as this does not take into account any tolerances necessary for holding the glass in place.
If the glass is broken piece it together as best you can to get your measurements.
Basic Rectangular Shapes
For basic squares and rectangles we will need 3 measurements:
Shaped Glass (i.e. Clipped Corners and Arches)
For shaped pieces, you will be required to provide a template. It is important you put as much information around the template as possible so we can cut your glass accurately.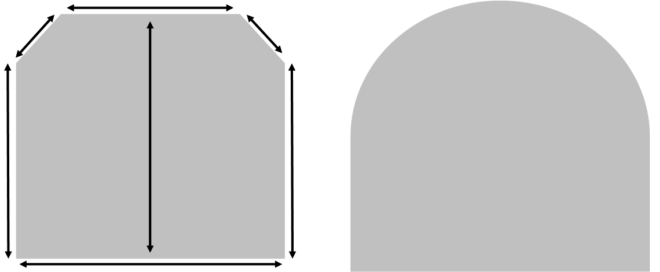 The measurements we need are:
Thickness
Overall height
Overall width
The size of any shapes and cuts (see above diagram).
Templates can be uploaded directly to the listing, emailed to us at sales@stoveindustrysupplies.com or sent to us through the post at:
Stove Industry Supplies,
103-105 Mowbray Drive,
Blackpool,
Lancashire,
FY3 7UN.
Any templates for arched glass must be sent through the post.
This is due to scale & distortion issues when printing the templates which result in the arch not been cut correctly.
Step by Step Walkthrough
Navigate to www.stoveindustrysupplies.com/glass-calculator
(You can also find this on the homepage or in the glass category)
Input the thickness of glass you require.

Input the overall height and width measurements.
Input if your glass is shaped.If you choose shaped an upload button will appear where you can upload your template.

Review your price.
(The price shown is for one piece of glass).
Choose the quantity you want to order and add it to your basket and continue shopping or checkout.
If you need help
If you need help with your purchase or have any questions about ordering a custom piece of glass please contact us through our contact form. One of our team will contact you directly to help you in any way we can.