SnapLok 4" (100m) Nest/Blockage Buster/Blockage Removal Tool (Aluminum)
Description
The SnapLok 4" (100m) Nest/Blockage Buster/Blockage Removal Tool has been designed to remove compact blockages, particularly dense, damp, compacted birds nests that need to be loosened up prior to the removal of the nest or blockage
It can be used in conjunction with the nylon whip Scrub Shaft or with the 6mm or 8mm Stainless Steel Capped Scrub Shaft
These items must be usedecorrectly with a survey prior to use to prevent damage to the chimney flue.
Features 4 x 8mm Thick Steel Cable with Stainless Steel Caps, 4 x Vertical Steel Caps, Solid Aluminum Power Whip Body
Suitable for 12mm - 22mm SnapLok Rod
To see the full SnapLok Rotary Power Sweeping Range click here.
To see our full range of Chimney Sweep Equipment click here
If you have any questions about your purchase please don't hesitate to send us a message through our contact page.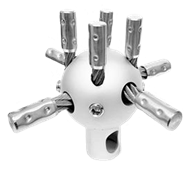 SnapLok 4" (100m) Nest/Blockage Buster/Blockage Removal Tool (Aluminum)
Reviews

Be the first to review this product.

Leave a review